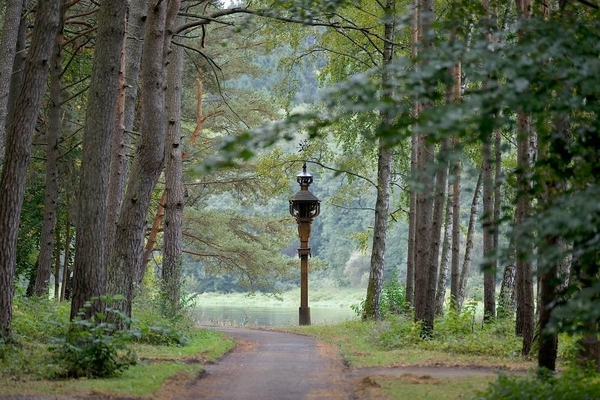 "Atminties takas" (Memory Path)
(wooden sculptures, 1988)
Folk artists and carvers set up a first camp in Birštonas precinct in Alksniakiemis forest in 1988. An area of 1.5 km by the Nemunas river houses oak sculptures "Atminties takas" (Memory Path) created by 11 folk artists to commemorate losses of exile and occupation.
While creating this path in 1988, it was important to preserve all national symbols and signs that were very valuable and interesting, and it was a great challenge to expose them in public at the time. The sculptures retained their value to this day, because these sculptures represent all impossible to forget sufferings Lithuanian people experienced.
Rūpintojėlis (Man of Sorrows) with a crown made of oak leaves symbolises not only hardship and sorrow, but also serenity, solicitude, sacrifice and love. Expatriate placed on a cross with a question "Why?" represent a real reproach for broken fates, expatriates in Siberia, deaths, famine and cold. The figure of the sculpture is curled up in a ball as if it never recovered and forever lost its life, time and health. Other roofed-type monuments depict mothers and their children reminding us of pain, loss and exile. Symbols of Catholicism that helped to survive many horrors are also presented - Pieta, the Virgin Mary the Sorrowful, the Virgin Mary, the Man of Sorrows. There also are some hopeful images - a sower that sows grains, a reaper and a thresher, and a woman that bakes bread. Sculptures are decorated with crosses made of metal Lithuanian daisies - they bring light and hope to the Memory Path.
List of Sculptures:
1. G. Dudaitis, "Numesk, Tėvyne, rūbą seną" (Homeland, Lose the Old Robe) - roofed pillar-type monument, 4.8 m.
2. V. Cikana, "Visiems - užaugusiems šėtono paunksnėje" (To All Who Grew Up in the Shade of the Devil) - chapel-column, 4 m.
3. P. Kaziūnas, "Lietuva, už visas tavo kančias" (Lithuania - For All of Your Sufferings) - chapel-column, 4.6 m.
4. R. Puškorius, "Lietuva, Tėvyne mūsų, tu didvyrių žeme" (Lithuania, Our Homeland, Land of Heroes) - chapel-column, 3.8 m.
5. M. Misevič, "Žmonės, neleiskim mūsų Žemėje gimti drakonams" (People, Let's not Allow Dragons to be Born in Our Land) - chapel-column, 3.8 m.
6. V. Rakuckis, "Motinų skausmui ir kūdikių klyksmui sustingusiems Sibiro speige" (To Sorrows of Mothers and Screams of Their Children that Froze in Siberian Frost) - roofed pillar-type monument, 4 m.
7. A. Seibutis, - chapel-column, 3.8 m.
8. R. Venckus, "Už ką?" (Why?) - sculpture, 3.5 m.
9. J. Tvardauskas, "Kiekvienam doram žmogui, padėjusiam galvą už Lietuvą" (To Each Good Man Who Died for Lithuania) - chapel, 2 m.
10. R. Zinkevičius, "Įmynęs pėdą čia/ Jaučiuosi ne svetys - Bet šeimininkas,/ Amžius čia
gyvenęs - Ir joks ateivis/ Jau neiškrapštys/ Kulka nei durtuvu/ Mus iš tos žemės" (B. Marčionis) - roofed pillar-type monument, 4.6 m.
11. V. Žilinskas, "Pažvelk į Nemuną/ Į savo sielos giedrą/ Į žydrą sielą/ Į savo gyvybės versmę" - roofed pillar-type monument, 4 m.
12. A. ir V. Kuzinai, Metalo saulutės (Metal daisies).