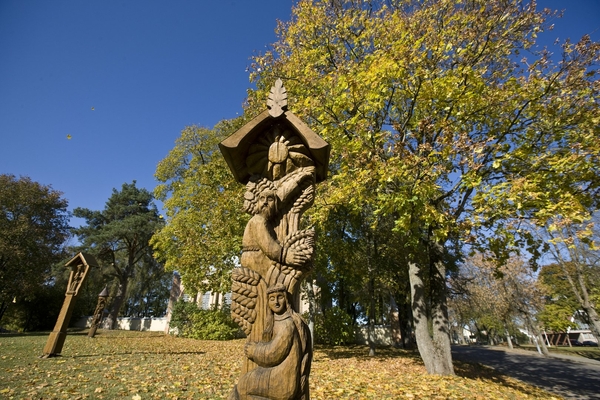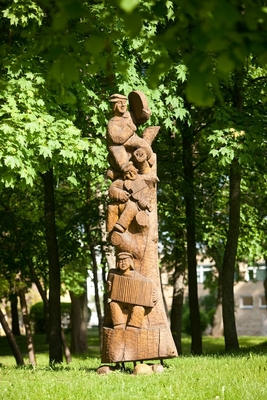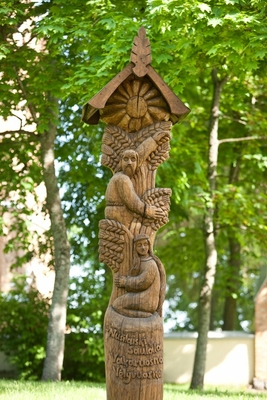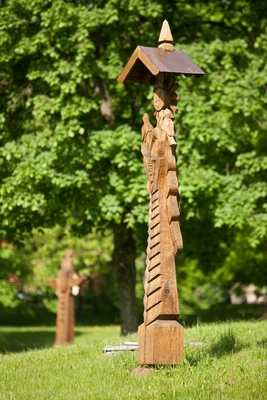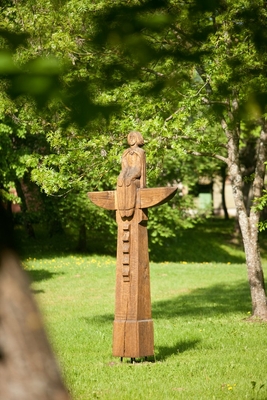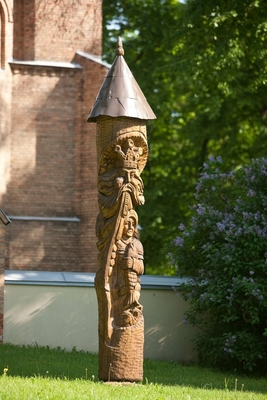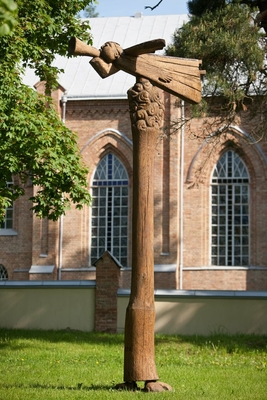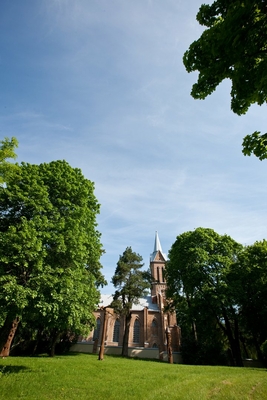 Hill of Songs
sculptures / audio guide
"Dainų kalnelis" (Hill of Songs)
(wooden sculptures, 1998)

Wooden sculptures "Dainų kalnelis" (Hill of Songs) were created during the Baltic States Symposium held in Birštonas in 1998. Works of art, created using themes from folk songs, were sculpted by Latvian, Polish and Lithuanian artists. For Lithuanians a song is a form of meditation, treatment, art and also a symbol of Homeland. Works of folk art are radiant with pride, serenity, and respect for work, people, song, freedom, bird and the sun.
The hill of songs is an exceptional place, because there is not a single sculpture built on this hill that would depict Crucifix, Virgin Mary or a saint. Sculptures depict a little shepherd playing a reed, men sowing the field or flailing, and women sheaving. When the work is done - it's time for songs and music. People depicted in sculptures are joyful; they gather together, play and sing. Musicians play kanklės (a Lithuanian plucked string musical instrument), violin, accordion and drums - Lithuanian folk music instruments. Other sculptures depict the proud Neptūnas (Neptune) that protects a fisherman in the Nemunas river, the King of Songs, and an Angel that flies and trumpets announcing good news.

List of Sculptures:
1. P. Balsys "Išbėgo, išbėgo iš Rusnės kaimo du jauni žvejytėliai" (Two Young Fishermen Leaving Rusnė Village) - 3.5 m.
2. H. Karaš "Kaimo muzikantai" (Village Musicians) - 3.2 m.
3. S. Lampickas "Rugiapjūtės daina" (Rye Harvest Song) - 3.4 m.
4. A. Sakalauskas "Dainų karalius" (The King of Songs) - 3.3 m.
5. T. Stambrauskas "Žiemkentėli rugeli, o kas tave sėjo" (Little Winter Crop, Who Sowed You?) - 3.6 m.
6. A. Students "Vaidila su kanklėmis" (Priest with Kanklės) - 4.2 m.
7. A. Teresius "Išauš aušrelė, patekės saulelė" (At Dawn the Sun Will Rise) - 4.6 m.
8. V. Umbrasienė "Močiute sengalvėle, kaip mane auginsi" (Wise Mother, How Will You Raise Me) - 3 m.
9. A. Venslavičius "Aš atsikėliau anksti rytelį" (I Awoke Early in the Morning) - 3.5 m.
10. V. Žilinskas "Plaukia sau laivelis" (A Boat Sailed) - 3.8 m.