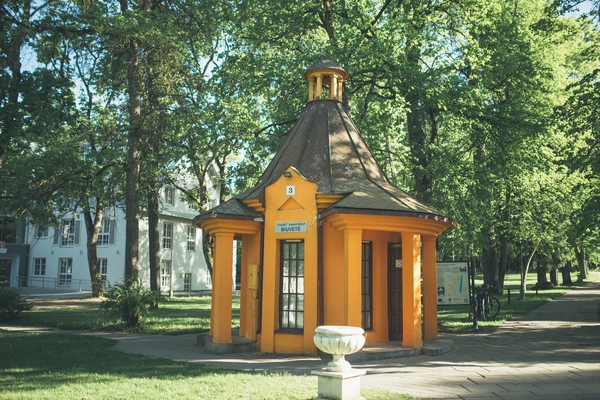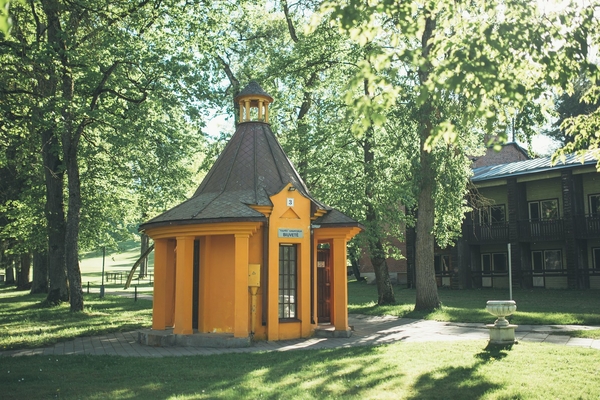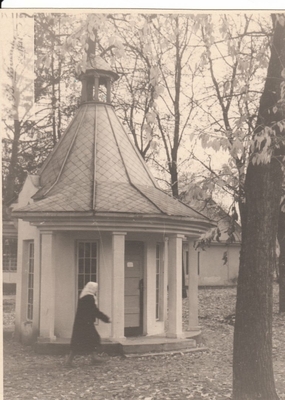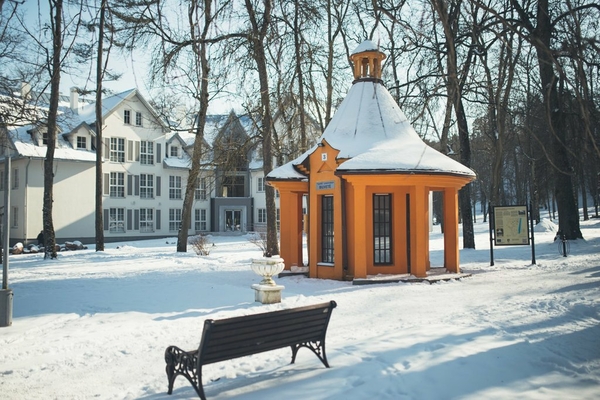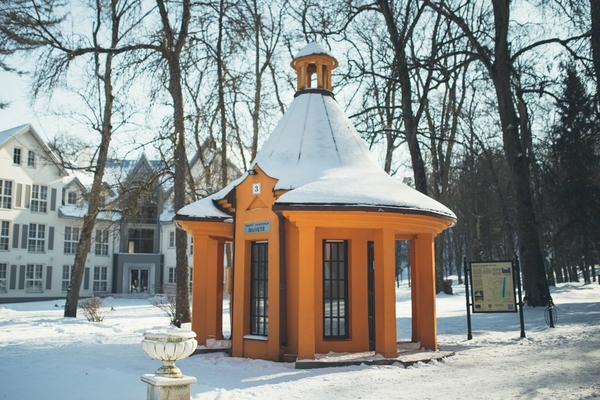 Yellow pump-room
mineral water / architecture / audio guide
Not many people know that Birštonas mineral water resort was a private town until the restoration of independence. What's even more interesting is that written records of the resort date back to the 14th century when a fortified wooden castle was mentioned in the New Prussian Chronicle by Vygandas Marburgietis (Wigand of Marburg). In 1382, the Grand Master of the Order of the Teutonic Knights was informed that a homestead was founded by the salty water (near the Nemunas river). It happened almost 500 years before the location was granted official status as a resort!
The small town began to be known as an oasis of rest during the 19th century, especially after the nearby resort of Stakliškės burned down. In 1854, an official permit for the establishment of a resort was received, and was the responsibility of the landlord Adomas Bartoševičius and the physician Benediktas Bilinskis. After a couple of decades, Ignotas Kvinta, a landlord from Jieznas, became the owner of the resort and started expanding it. The next owner was Lidija Miller-Kochanovskienė. After the re-establishment of independence, the town, significantly damaged during the First World War, became the property and responsibility of the state and the Lithuanian Red Cross Society started taking care of it.
A pump-room is a term derived from a French word meaning a building on a mineral water spring. Such pump-rooms began appearing in Birštonas as the town gained popularity amongst those who propagated healthy lifestyle and who wanted to choose such lifestyle during the 19th century.
In 1879, the owner of the resort, Ignotas Kvinta, named a spring after his daughter, Viktorija. The priest and writer Juozas Tumas-Vaižgantas, who was a great fan of resort, later proposed the name of Vytautas, which today is almost synonymous with mineral water in Lithuania. This spring, however, which featured a wooden sculpture of a whale nearby, was flooded by Nemunas after the establishment of the Kaunas Hydroelectric Power Plant. The sculpture, by the way, is now a part of the town's coat of arms.
The pump-room at the historic Tulpės sanatorium is known in the resort for its representative, even surreal forms, reminiscent of a fairy tale house. The round pump-room has two entrances, extended with spectacular loggias. The tower on the roof is reminiscent of a lantern.
Today, the water supplied to Birštonas pump-rooms and the mineral water bottling plant is of low and medium mineralisation without specific components (sodium chloride). This pump-room is supplied with mineral water of medium mineralisation (more than 8 g/l), similar to the historic mineral water of a similar composition, Vytautas. It's extracted from a depth of 125 meters.