back
Memorial plaque to dr. A. S. Zenkevičius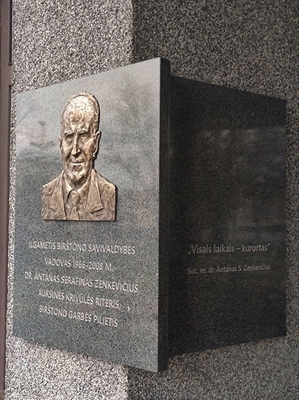 Memorial plaque to dr. A. S. Zenkevičius
sculptures
The long-term mayor of Birštonas municipality, honorary citizen of Birštonas, knight of the "Golden Curve", social. m. Dr. The words of Antanas Serafina Zenkevičius "All the time - a resort" are immortalized on a memorial board with a bas-relief in the municipality of Birštonas, created by sculptor Gediminas Piekuras.
In honor of Dr. A memorial bas-relief dedicated to AS Zenkevičius' dedication and work done for the sake of Birštonas resort was unveiled.
"Birštonas - at all times - a resort!"
(sculptor G. Piekuras, 2020)