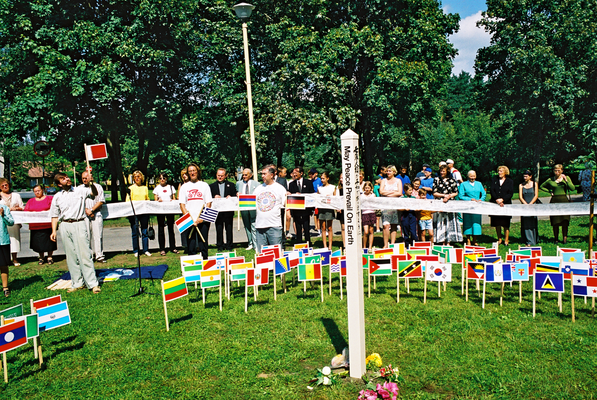 A symbol of peace
sculptures
It was only at the beginning of the Third Millennium that Birštonas was visited by cyclists and Japanese cyclists with the impressions of the Millennium cycling tour around the world (in 525 days in 45 countries): leader Sigitas Kučas, chronicler-translator Goda Čiplytė, cameraman Edvardas Dyris (The bicycle ride that carried Lithuania's name around the world lasted a year and a half, and 24,239 km were cycled). To culminate in the communion with the marchers, it was decided to build in Birštonas a symbol of a widespread campaign in the world - the Peace Pole. 2000 August 6 A symbolic stela brought from Japan was erected in the peace square, on which it is written in four languages ​​(Lithuanian, English, Russian and Japanese): "Let there be peace in the world". The event was attended by the leaders and guests of Birštonas, the then member of the Seimas Juozas Olekas, the people of Šilaga and a group of Birštonas.
All participants signed a manifesto of peace and non-violence:
"I commit in my daily life, in my family, in my work, in my community, in my country:
- respect for every life,
- reject the coercion,
- to liberate his generosity,
- listen for mutual understanding,
- rediscovering solidarity. "
It is a joint project of six representatives of the World Non-Governmental Society of World Peace Prayer (leader Masayo Shibamoto), Birštonas Healthy Lifestyle Club Šilagėlė and the Municipality. An exhibition-meeting of the Trip souvenirs and trophies was organized at the Birštonas History Museum, and travel report films and slides are shown at the Culture Center. A few years later, the Japanese visited Birštonas again and taught Birštonas and resort guests meditation, mandalas, calligraphy, and more. traditional Japanese art.
This symbol of Peace from the Land of the Rising Sun impresses the Japanese who love to visit Birštonas. According to the coordinator Danutė Tomkevičienė, other Peace Pillars in Lithuania are located in Vilnius, Independence Square, Europe Center, Panevėžys, Kretinga, Naujoji Akmenė, Kryžių Kalns (the only cedar tree and with a cross), two in Kaunas (6th Fort and Yoga Center), Palang In Juodkrante, Kelmė gymnasium, Gargždai and Visaginas.