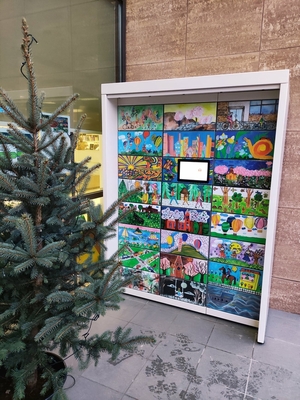 Links
I - V 00:00 - 23:59
VI 00:00 - 23:59
VII 00:00 - 23:59
1. When ordering books online, on the portal www.ibiblioteka.lt, be sure to pick up the publications at the bookstore and check that the correct mobile phone number is entered in your account.
2. You can also pick up books at the bookstore by ordering them by phone: +370 319 65615 (adults) and +370 319 56780 (children) and e. e-mail [email protected] (for adults), [email protected] (for children). In both cases, provide your correct mobile phone number and reader ID number.
3. Arrive to pick up your publications only after receiving an SMS message stating the four-digit book door opening code and the storage period of the publications. Press the asterisk on the book screen, enter the code you received, and then press OK on the screen. Grab your publications, close the door, and press OK on the screen. You can pick up ordered publications from the bookstore 24/7, within 72 hours. (3 days) from the receipt of the SMS message.
4. If you do not pick up the publications from the bookstore within the period specified in the SMS message, the publications will be returned to the library fund.
5. The book automatic is not intended for the return of publications. The 24/7 book return facility is located near the main entrance to the Birštonas Public Library.