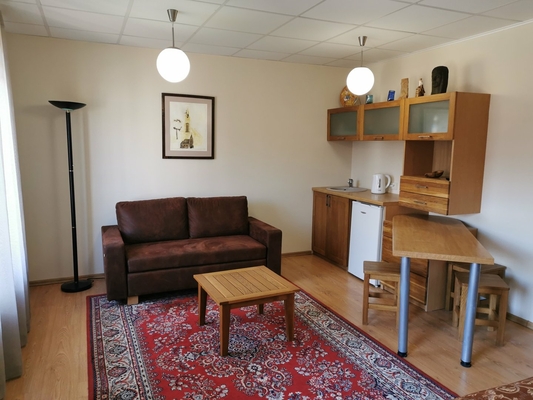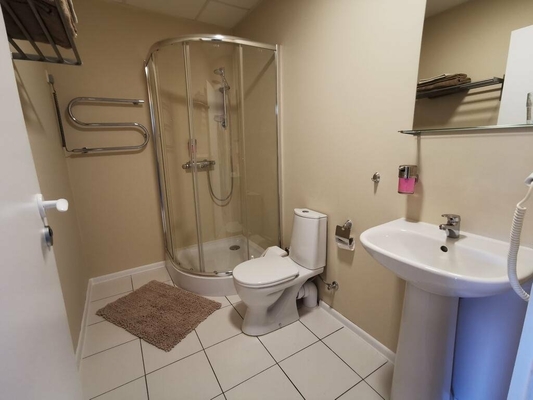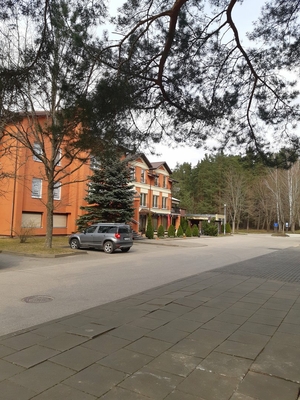 In the oasis of peaceful rest in Birštonas - Solo studio, located at the entrances of this exclusive Lithuanian resort Vytautas Jurgis Meška park, where there are many accents meaning cultural and sports traditions - mineral water evaporation tower, artistic sculptures, well-equipped walks and cycling trails for active recreation, fitness facilities, mini golf course. The most popular, unobtrusive cultural, historical, health and catering establishments (cafes, restaurants) of the resort are located in the vicinity of Solo studios or within a radius of a maximum of one and a half kilometers… The bus station is only 250 meters away. Quick access to the lounge area by public transport…
The modern building housing the Solo Studio houses a full range of apartments and studios under its roof. It features a massage and beauty salon, and Sofia Residence Hotel with a spa and restaurant. There is a car park and an electric car charging station nearby.
In the lounge area of ​​the solo studio there are two comfortable handmade single beds (210 mm x 100 mm), which can also be completed into one large one. Next to them - bedside tables. An extra sofa bed is available for more than 2 guests upon arrival. A wardrobe completes the furniture complex. Guests have access to a TV and free internet.
In the kitchen area - oak furniture with dining table, refrigerator, kettle, microwave.