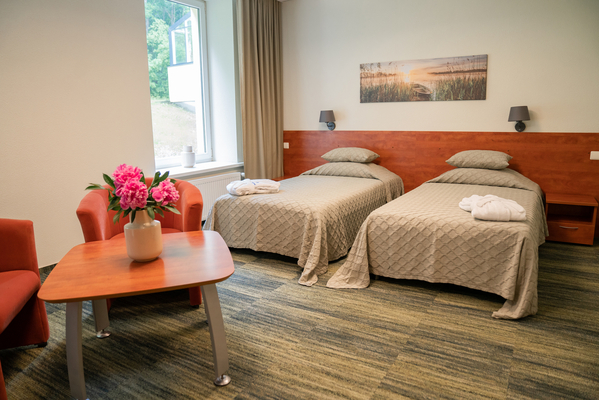 Medical SPA "Versmė"
medical SPA /
The Medical SPA "Versmė" is situated in the heart of Birštonas. It is a specialised treatment and relaxation establishment providing rehabilitation, ambulatory rehabilitation and therapeutic services for Lithuanian and foreign citizens all year round. With 187 rooms, it can accommodate 340 people at a time. The Medical SPA has been reconstructed and updated with modern medical equipment with customers in mind. Natural curative factors such as curative mud and mineral water are a priority in treatment and health care. The Medical SPA offers a wide range of services, including single spa treatments, multi-day health care and treatment programmes, weekend relaxation programmes and medical treatment.

The Medical SPA "Versmė" treats patients with:
• Nerve disorders;
• Endocrine diseases;
• Digestive problems;
• Respiratory diseases;
• Kidney diseases;
• Support-motor apparatus disorders (following traumas, illnesses or orthopaedic operations);
• Exposure to ionizing radiation.

In 2012, the Medical SPA was the first in Lithuania to receive Certificate No. MV-1(6) for the use of mineral water for health and wellness services and Certificate No. PR-3(6) for the use of peloids (curative mud) for health and wellness services.